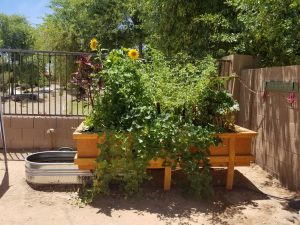 My whole life, I have been creating ecosystems. As a child, that interest took the form of terrariums that I put my pets in. As an adult, I took up gardening. As I learned more about different families of organisms, I learned how to incorporate them in my miniature ecosystems. I started with animals, in the form of pets. I quickly learned about plants and started incorporating them into my designs. As I moved into outdoor ecosystems, I learned about compost and soil biology. Then I learned about the role mushrooms play in ecosystem health. With every addition, my little ecosystems became healthier and more productive. Then I found out about aquaponics. I really liked the way that aquaponics is efficient in closing the loop between two different types of organisms, but felt that with the elimination of soil, soil biology, and fungus it was missing some subtle but important elements. In 2012, I started in on a series of experiments whose purpose was to see if aquaponics with living soil was possible.
As you might imagine, just dropping soil into an aquaponics system wasn't the plan, but rather I wanted to bring the complete set of knowledge I'd gained through decades of self-education and experimentation. As I learned and refined, failed and adjusted, I ended up with something that, quite frankly, blew me away. Through those experiments, I started to see some connections, areas where inputs and outputs could be combined, and pieces that naturally just fit well together. I came to the conclusion that a hybrid system could be created by utilizing and combining twelve different principles and methods of growing food, creating soil, and repairing the environment. These twelve are:
Organic Gardening
Aquaponics
Hugelkultur
Composting
Mycotechnology
Technology
Integrated Pest Management
Systems Thinking
Environmental Engineering
Ecosystem Design
Intensive Agriculture
Regenerative Agriculture
There's a whole lot to unpack there, and I will cover each of those items, what they bring to a LEHR Garden, and how they fit together in subsequent posts. As I developed this new approach, I ran into problems, worked through them, and found solutions, often in unusual ways. At its core, this new method is a composting method, but it's value extends well beyond that. Over a period of years, I started to realize the immense potential of this new system. This new type of garden has several important features:
It is highly productive
It is very water efficient
It needs NO daily maintenance. Honestly, it only takes a few hours a month to maintain.
It needs NO chemical inputs. No pesticides, no herbicides, no fungicides, no fertilizer.
It produces soil as an output.
It has an integrated, low-maintenance compost bin
It sequesters carbon
It can grow plants at about 3x the density of a square foot garden
And more…
The most interesting thing about this new method is that this combination of very productive, very low maintenance, and very sustainable has some pretty amazing implications for urban agriculture, especially the idea of bringing urban agriculture to many more back yards.
I call this new method a LEHR Garden. LEHR is an acronym for Linking Ecosystem & Hardware for Regeneration. This is a pretty good description of what sets the LEHR Garden apart. There are many, many people who have realized that our current system of industrial agriculture is unsustainable and unhealthy and have endeavored to come up with something new and better. The vast majority of those systems either focus on the ecosystem and try to reduce the use of technology, or they focus on the technology and try to reduce the use of ecosystem. A LEHR Garden uses both to a very high level. The big difference is that instead of using the technology to replace ecosystem function, a LEHR Garden uses the technology to enhance and accelerate ecosystem function. 
As I dig in more and more to this blog, I am going to be talking about how the LEHR Garden works and what it brings to urban agriculture. Make sure to come back. I have a lot and I guarantee you'll learn something.